Windows 11 is a controversial operating system that created a lot of heat among users due to questionable changes and strange feature regressions. As it usually happens, third-party developers do the Lord's work and fix what Microsoft can't or won't fix. Some time ago, we published an article about the 11 best apps for Windows 11 users. Now we want to focus on applications that aim to improve existing features or replace them with better alternatives. All ten apps in this article are available in the Microsoft Store at no cost or with free trials.
Here's the table of contents so you can quickly jump to the app you want the most:
$2.49 + free trial in the Microsoft Store
Power Start Menu is a small app that addresses the most popular complaints about Windows 11's Start Menu. This allows removing the "recommended" section (and filling the menu with your pins to its edges), disabling the search box, and adding transparency. My favorite part is that the program lets you open the Start menu directly in the "All Apps" list, saving you a click. You also get the ability to specify what happens when you click the power button (left, right, or middle), when you want to turn off, restart, or sleep your computer. One click saves. neat and clean!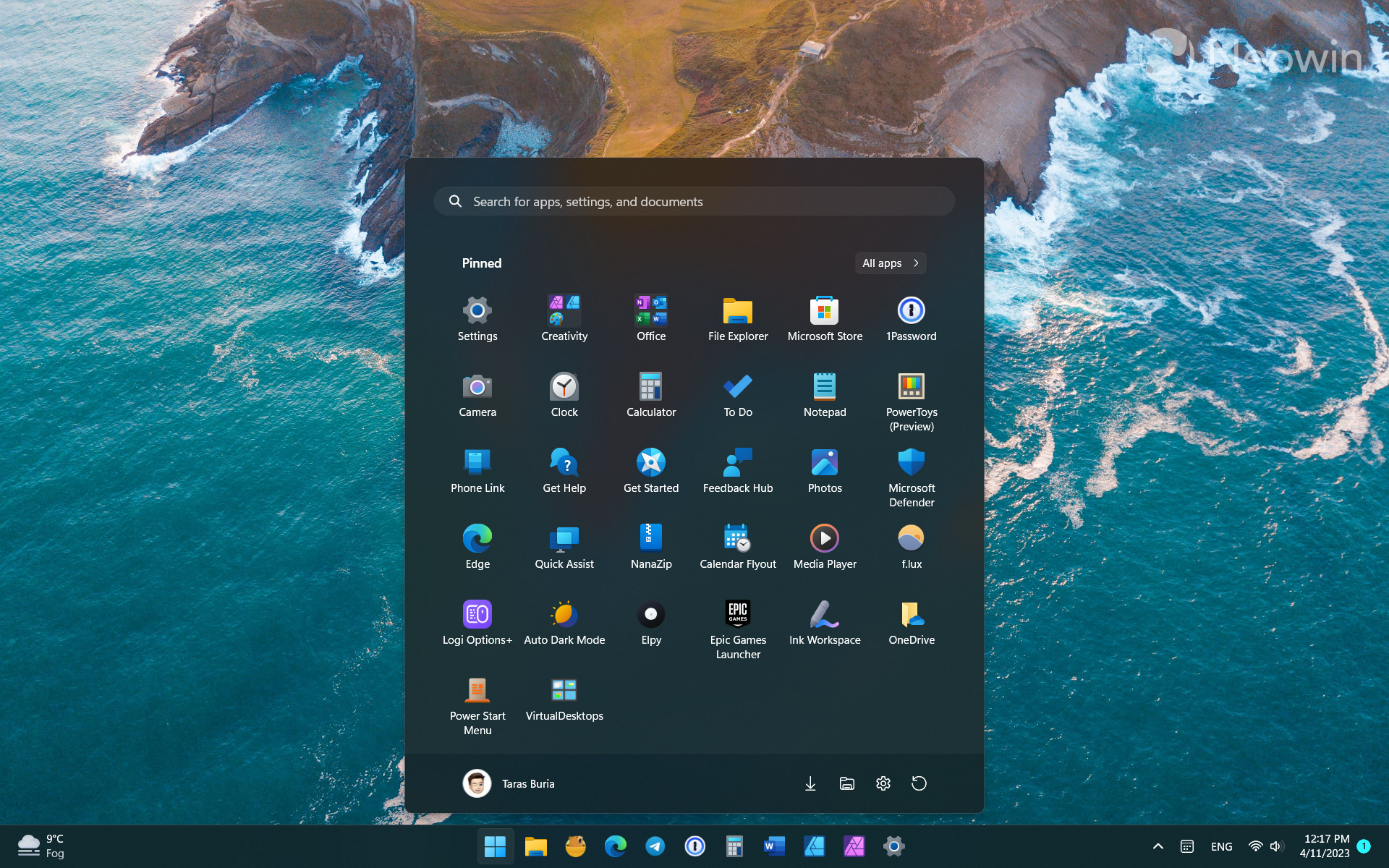 Finally, the developer gets extra points for using a Windows 11-like UI for app settings. Overall, PowerStart Menu is a fantastic tool that lets you fix the stock Start Menu without having to replace it with third-party (often cumbersome) alternatives.
As for the resource impact, the app uses less than 10MB of RAM for its background service.
$1.69 in the Microsoft Store
Windows 11 has a weak calendar flyout, to put it mildly. You cannot create new events or view your agenda. Also, combined with the notification center robs the user of screen real estate for fly-out notifications. The Calendar Flyout app fixes that.
With the calendar flyout, you can view your events (including appointment reminders), create new ones, add additional clocks (up to three), and bring up the flyout with customizable shortcuts. What I also like about the app is how it notifies about upcoming events with a small orange dot in the notification area (you can turn this off).
The only problem with the app (besides the lack of a free trial) is that it can't replace the stock flyout, so you have to invoke the calendar flyout using a specific icon in the notification area (or a shortcut). Will be.
Free in the Microsoft Store
Windows 11's battery indicator is a joke. In addition to being difficult to read and inconsistent with the lock screen, its charging status is often misleading, with lower-than-actual levels and unrecognizable charging/battery saver indicator values. The Battery Tracker app solves this problem and introduces a neat additional feature.
Battery Tracker is another small app with a Windows 11-like UI. It puts a percentage indicator in the notification area, letting you know how much battery is left. In addition, it supports charging notifications, alerting you when the battery goes below or above a certain level.
Free unlimited trial + $0.99 in Microsoft Store
If you're unhappy with Windows 11's redesigned context menu, the Custom Context Menus app lets you create custom entries for specific file types (you can even set custom icons), more actions Add another menu for , etc.
It may take some time to learn how the app works (you need to know the parameters of the app to execute certain commands), so get used to it. Wiki page on GitHub for help.
Free in the Microsoft Store
Although Windows 11 now supports displaying its taskbar clock on all monitors, the clock still has room for improvement. In addition to adding the much-needed seconds (coming to Windows 11 in a future update), ElevenClock provides a metric ton of additional features and customizations.
The app lets you turn the notification badge on or off, remove the tooltip, and change what happens when you click the clock (single, double or middle click). Also, users can change where Windows displays the date/time, pin the clock to the desktop, adjust the height/width, and more. Do you hate the standard font or its size? ElevenClock can change that too. It's the kind of app that takes a seemingly mundane feature and turns its personalization capabilities up to 11.
Free in the Microsoft Store
Ink Workspace is a feature-packed app that can easily replace the stock Start menu. In addition to looking like a modern Windows 10 Start menu with tile-like icons, it displays your pen's battery level and provides quick shortcuts for various actions, such as screen recording, clipboard history, voice Typing, emoji panel etc. Dedicated sections for all apps and your recent files.
The app is primarily aimed at touch and pen-enabled devices, but you can also use it with a regular PC.
$2.99 ​​+ free trial in the Microsoft Store
Windows 11's virtual desktops pale in comparison to the same capability in macOS, and Microsoft's lack of focus in this area really bothers me. So, it's nice to discover a number of apps to enhance the virtual desktop experience in Windows 11. Power Virtual Desktop lets you navigate to specific desktops with shortcuts, loop desktops (first to last and vice versa), show virtual displays. Use your mouse wheel to switch between desktop names, and even adjacent desktops, when switching.
What bothers me about this app is its inability to send the current window to a specific desktop. This feature is available in an alternative application called Virtual Desktop Indicator. However, the latter lacks a proper settings UI and uses distinctly ugly desktop gestures.
Free in the Microsoft Store
Microsoft is working on improving Windows 11's Volume Mixer, but it will be a while before a reworked variant arrives. You can fix weak volume controls with the Volumey app, a powerful tool for managing sound on a Windows machine.
Volumey lets you create multiple key shortcuts to control sound output devices and applications. You can control volume with custom shortcuts for a specific device or application. The app also supports limiting the launched app volume if it is set to 100%, media remapping, changing the volume adjustment phase, and more. If shortcuts aren't your cup of tea, Volumey offers a standard-looking flyout.
Volumey is unlikely to win a design award for its user interface, but the feature set more than makes up for its awkward UI.
Free in the Microsoft Store
Fluent Search is an advanced search app for Windows 10 and 11 developed by Microsoft engineers. It has many modules for search process, to-dos, settings, commands, apps, files, web, bookmarks and history etc. in popular browsers. In addition, you can add more plugins for translation, search in clipboard history, execution of execution, etc.
Unlike dumb Windows Search, which still doesn't know how to search the Recycle Bin (at least we have a Bing AI ad), Fluent Search has several advanced capabilities. For example, you can use it to find elements in the app, such as tabs, buttons or links. You can also use it to control the computer without a mouse.
With its many features and customization options, Fluent Search can seem a bit overwhelming at first, but once you learn to harness its potential, it turns into a very capable and powerful tool.
Free in the Microsoft Store
Windows 11 still doesn't support scheduled or automatic theme switching at sunset/sunset, so here's a third-party app to do it. Auto Dark Mode can toggle between dark and light mode depending on custom times, sunset and sunrise (geo-based), offset changes, switching modes using hotkeys, and more.
In addition to toggling the mode on a schedule, Auto Dark Mode can change wallpapers and set different Windows themes based on your preferences. It allows setting different colors, backgrounds, cursors and sounds for day and night.
Bonus: Wallpaper
This is the wallpaper we used in this article:
If you know of other apps that can enhance or replace vulnerable parts of Windows 11, be sure to let us and others know in the comments section.